Alex Constantine - October 8, 2014
BY NORMAN STOCKWELL
On Sunday, Oct. 5, 1986, a young Sandinista soldier named José Fernando Canales Alemán sighted a Fairchild C-123K cargo plane in Nicaraguan airspace near the Costa Rican border. He fired a Russian-made shoulder mounted SAM-7 (9K32 Strela-2) surface-to-air missile and brought down the plane. Three crew members – William J. Cooper, Wallace "Buzz" Sawyer, and radio operator Freddy Vilches – were killed in the crash. The fourth – and most famous – survived. His name was Eugene Hasenfus, and his subsequent capture by Sandinista forces led to the unraveling of a complex web now called "The Iran-Contra Affair."
Eugene Hasenfus was a former Marine who had flown supply missions for Air America, the CIA's air-transport company, during the heady days of the Vietnam War. His ports of call included Saigon and Vientiane, Laos, he told the Christian Science Monitor in a November 1986 interview from jail in Tipitapa, Nicaragua.
It was a call from an old colleague at Air America that encouraged him to travel from his home in Marinette, Wisconsin. Marinette is a town of about 10,000 residents in the northern part of the state, along the Michigan state border. Coincidentally, it is about three miles from the home of Capt. Ernest Medina, who was tried and acquitted for the My Lai massacre. (There is no record that the two men ever met.)
Hasenfus went to El Salvador to join the Contra resupply operation headed by Gen. Richard Secord for a promised salary of $3,000 per month – a good deal more than he was making as a part-time construction worker in Wisconsin. His job was to kick the loads of cargo out the doors of the plane as it flew low over Contra-controlled areas inside Nicaragua. Hasenfus would later tell his Nicaraguan captors that he had flown more than 10 such missions. On Oct. 5, 1986, the C-123 cargo plane – called a "Provider" by its manufacturer, – left Ilopango Airbase in El Salvador loaded with "70 Soviet-made AK-47 rifles and 100,000 rounds of ammunition, rocket grenades and other supplies," according to aviation safety records. As the plane entered Nicaraguan airspace it dropped to an altitude of 2,500 feet near San Carlos, along the Río San Juan. At that moment, the young Sandinista fired his shoulder-mounted missile, whose Russian name "Strela" means "arrow," and the plane began to spiral toward a crash. Unlike his colleagues, Eugene Hasenfus had a parachute that he had borrowed from a brother who was a skydiver.
The Oct. 8 edition of Sandinista newspaper Barricada would feature on its front cover a full-page photo of Hasenfus being led off by his captors, and on the back cover, a comparable photo of a young Vietnamese militia member who had similarly shot down and captured U.S. airman W. H. Robinson 20 years earlier in September 1965. The image would later appear on a billboard in Managua bearing the text from Augusto César Sandino's July 1927 manifesto against the U.S. Marines: "More than a battalion of your men, blonde invader, will end up biting the dust of my warring hills."
The fact that Hasenfus – whose name in German roughly translates to "Rabbit's Foot" – had a parachute was lucky for him, but not so lucky for his CIA employers. Retired U.S. Maj. Gen. John Singlaub, who was President Ronald Reagan's administrative chief liaison to the secret Contra supply effort, in his 1991 autobiography "Hazardous Duty" bemoans, "Only a fool would dispatch such a plane on a clandestine airdrop during daylight. To make matters worse, Hasenfus and the three dead crewmen had been carrying their wallets with identity cards linking them to Southern Air Transport, a known CIA proprietary company. The final straw in this foul-up was the fact that the plane's logbooks were on board, which also linked the operation back to the CIA."
It was those logbooks, together with a business card found in Hasenfus' wallet when he was captured, that led to the exposure of U.S. government involvement in the Contra resupply operation. The business card came from Robert W. Owen, who, according to researcher Peter Dale Scott, had worked with Singlaub in Asia, and later on the staff of U.S. Senator Dan Quayle. In 1983, Rob Owen joined Lt. Col. Oliver North in his "Project Democracy" to aid the Contras. According to Singlaub, North and Secord had botched the operation and then later tried to blame it on him: "… Ollie North's grandiose self-image as a master covert operator," he wrote, "had come back to harm the Contra cause." It was Secord whom Hasenfus would later attempt unsuccessfully to sue in U.S. federal court for negligence and breach of contract.
The revelations immediately led to an outcry in the media and U.S. Congress. Lawmakers had voted in the "Boland Amendment" to outlaw U.S. assistance to the Contras for the purpose of overthrowing the Nicaraguan government – including prohibiting all "funds available to the CIA and the DOD [Department of Defense] from being used in Nicaragua for military purposes." Vincent Cannistraro, director of intelligence programs for the U.S. National Security Council, wrote in a now-declassified memo on Oct. 8 to then-National Security Adviser Robert McFarlane that, "Press Guidance was prepared which states no U.S.G. involvement or connection, but that we are generally aware of such support contracted by the Contras." The memo continues: "Elliott [Abrams, assistant secretary of state] said he would continue to tell the press these were brave men and brave deeds. We recommended he not do this because it contributes to perception U.S.G. inspired and encouraged private lethal aid effort."
The Iran-Contra hearings began on May 5, 1987, and lasted through the summer until Aug. 6. During that time, the Hasenfus incident became a smaller and smaller cog in a great wheel that included selling missiles to Iran, trading arms for hostages, secret bank accounts, and off-the-books funding of Contra operations in Honduras and Costa Rica. Special Counsel Lawrence Walsh summarized the results: "Of the 14 persons charged criminally during the investigation, four were convicted of felony charges after trial by jury, seven pleaded guilty either to felonies or misdemeanors, and one had his case dismissed because the Administration refused to declassify information deemed necessary to the defendant by the trial judge. Two cases that were awaiting trial were aborted by pardons granted by President Bush." Outgoing President George H.W. Bush ultimatelypardoned six of the key figures in 1992.
In 1987, Pacifica Radio began live coverage of the hearings. My station was the first in Wisconsin to air the coverage. I engineered the broadcast each day, as we preempted regular programming. If the hearings ended early, we would need to scramble for LP records (CDs were not in use much in those days) to fill out the afternoon. I would record the live satellite feed on 10-inch reels of tape as it broadcast over the air, and then scramble between 5 p.m. and 6 p.m. to edit the day down to a half-hour long summary for listeners unable to hear the whole thing. But it was nothing compared to the legendary work of Pacifica reporter Larry Bensky and his producer Bill Wax. They perched in a cramped location in the crowded room to broadcast the hearings and conduct interviews throughout the day. Wax would listen to the hearings and record choice bits onto short cassette tapes for use in Bensky's summaries – which might happen at any moment in the day if the hearings suddenly went into recess.
Although Hasenfus was lucky the day of the crash, luck did not seem to follow him in later life. After being tried, convicted and pardoned by the Nicaraguan government, he returned home to his wife and three children in Marinette just in time for Christmas. There were, of course many jokes at the time about Hasenfus as a "marionette" hanging from the strings of his parachute – or more darkly, controlled by strings from Washington. His father was quoted in the press at the time as saying, "It would have been better if Eugene had died. The dead don't talk." The cost of his legal defense was never paid by the government since officials were still trying to deny that he was their employee. The bank came close to foreclosing on his mortgage as he struggled to make ends meet. He unsuccessfully sued his employers, Southern Air Transport and Corporate Air Services, saying they had promised verbally to cover all of his legal fees, but the suit lost in district court, and again on appeal.
After that, a downhill slide began. His wife divorced him in 1998, and then, according to Timothy Lange, writing in the Daily Kos:
On July 10, 2000, he was accused of indecent exposure in Brookfield, Wisconsin. On June 1, 2002, he killed a bear without a license and was fined $260. He was accused of lascivious behavior a second time in January 2003, after exposing himself in the parking lot at Woodman's grocery store in Howard, Wisconsin, and received probation. He was accused a third time on May 25, 2005, after exposing himself in a Wal-Mart parking lot in Marinette County, Wisconsin. This violated his probation, and he was forced to serve jail time in Green Bay, Wisconsin, until Dec. 17, 2005 – the 19th anniversary of his release from a Sandinista prison.
An interesting side note to the story is the successful life of the twin to the Hasenfus plane shot down in 1986. The CIA had actually purchased two of the Fairchild C-123K Providers, and the other one is now the centerpiece of a unique pub in Costa Rica. According to the website of Hotel Costa Verde, "As a result of this successful Sandinista strike on our Fairchild's sister plane, the cargo operation was suspended and one of the C-123s was abandoned at the International Airport in San José. In August 2000, we purchased the abandoned Fairchild and shipped the pieces of the Iran-Contra relic to Quepos [on the central Pacific coast]. The fuselage was shipped via ocean ferry because it was 10 inches too wide for the antiquated Chiquita Banana railroad bridges! After hauling seven sections up the Manuel Antonio hill, the C-123 finally found its current cliff-side resting-place. Now, our C-123 has been retired to less risqué endeavors as a restaurant, bar and an enduring Cold War relic."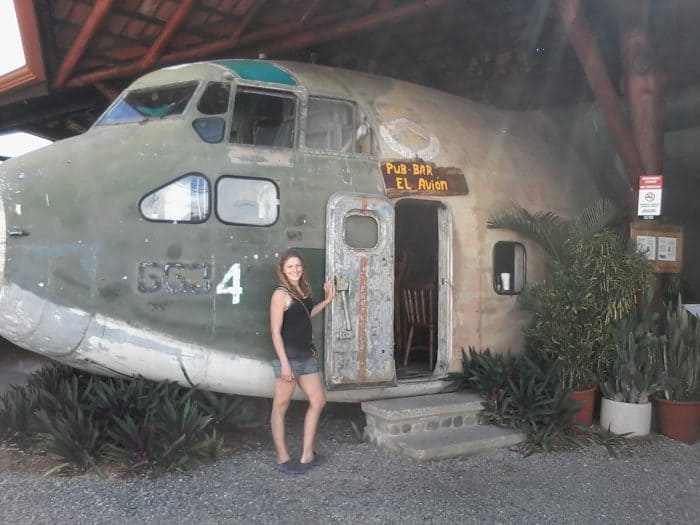 El Avión Pub in Quepos, near Manuel Antonio National Park, on Costa Rica's central Pacific coast.(Courtesy of Jesse Chapman)
Norman Stockwell is a freelance journalist based in Madison, Wisconsin. He also serves as operations coordinator for WORT-FM Community Radio. Stockwell has reported from numerous countries in Latin America, including Nicaragua's Atlantic Coast. In 1987 he helped broadcast the Iran-Contra Hearings on community radio before traveling to Nicaragua. Read his recent contribution to The Tico Times' special "La Penca: 30 Years Later."