Alex Constantine - April 10, 2016
Blacks in Dallas say 'No' to White militia's armed protest outside Nation of Islam mosque
 APR 6, 2016 
DALLAS—The chant of "Whose streets? Our streets!" reverberated throughout crowds of people in South Dallas' Black community in response to the decision by BAIR, the Bureau of American Islamic Relations, a White group, to stage an armed protest outside of the Nation of Islam's Muhammad Mosque No. 48.
But the gun-toting and often masked BAIR members came and found themselves massively outnumbered April 2 as crowds of angry Black people gathered ready to defend the mosque and their community from what counter-protestors called an insurgent occupation.
This was not the first time BAIR spoke of coming to the Dallas mosque with weapons in hand. Just two weeks earlier the group was a no show as hundreds from the community and neighborhoods around Martin Luther King Jr. Blvd. awaited them, eager to declare hands off the mosque. Many different groups in the community showed up—from the unarmed members of the Fruit of Islam of the Nation of Islam to the heavily armed members of the Huey P. Newton Gun Club, the New Black Panther Party, and the Black Women's Defense League and everyday Black residents outraged that Whites would choose to exercise their rights to openly carry weapons and protests in the 'hood.
BAIR, an anti-Muslim group, has previously held armed protests at mosques and Islamic events in the Dallas-Fort Worth suburbs of Irving, and Richardson, Texas. Congregations in these communities were predominately Arab and immigrant Muslims.
Coming to the N.O.I. mosque meant coming into the heart of the Black community.
"These people came to our community under false pretenses. Could we do the same thing? Could we make some allegations about a group in Highland Park and arm a militia and say we are going to go over there with arms and protest? That would have been stopped at city hall. The police would have stopped that," said community activist Purlie Gates.
According to FOX 4 News Dallas, BAIR said the protest was in response to a Nation of Islam call for violence and bloodshed of uniformed police officers on American soil. BAIR's claim was unfounded. Their allegations could not be verified, and BAIR spokespersons could not be reached for comment.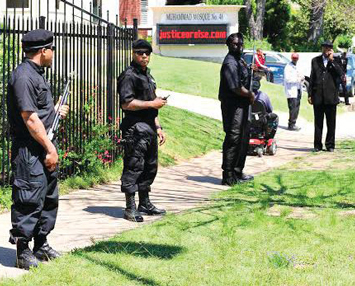 The New Black Panther Party stand guard in front of Muhammad's Mosque No. 48 against BAIR armed militia group.
"We are a Nation of Peace," said Student Minister Tyrone H. Muhammad of Muhammad Mosque No. 48. "We have some people in this country that do not want us to worship and teach our people in peace," he continued.
From the onset the South Dallas neighborhood took on the appearance of a military occupation, with Dallas Police Department officers in riot gear, snipers on roofs across from the mosque, and tactical vehicles appareled with battle rams parked nearby. The Dallas Police Department stated that their presence was to ensure there was no harm or bloodshed.
The general displeasure and attitude among Blacks was consistent: There was an air of fearlessness and anger. Anger that a group of White men baring assault rifles, machine guns, and a variety of weapons would come to a Black neighborhood to demand and protest people who have done nothing wrong, and fearlessness to defend their community.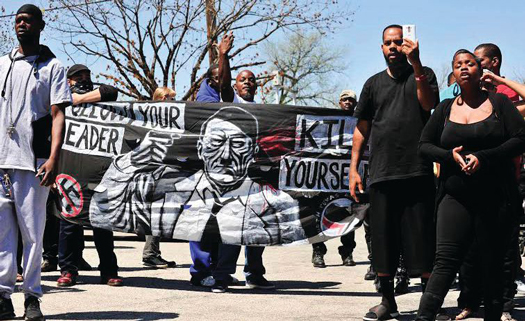 Local residents, the NBPP, the Heuy P. Newton Gun Club and the Black Women's Defense League attend the protest against the Nation of Islam Muhammad's Mosque No. 48 of the BAIR armed militia group that came to protest the N.O.I. on false accusations.
"I'm mad as hell and I don't need no gun; we gone fight hard out here," said a South Dallas woman who was energized and extremely vocal.
A young man who is a resident of South Dallas said, "We will not allow that no longer. This is a message to all of them; we take this seriously. This is 2016, we are not our grandparents. We will whoop your a--."
There was vigilance as those gathered awaited BAIR who promised to start their protest outside of the mosque Saturday at 1 p.m. On Saturdays the Nation of Islam holds its Muslim Girls Training and General Civilization Class (M.G.T. and G.C.C.) for women only in mosques and study groups in America and outside the country. To many the armed BAIR action was a cowardly move to protest outside a mosque full of women and girls, as opposed to a plan to come on a Sunday during a general meeting—as BAIR had weeks earlier.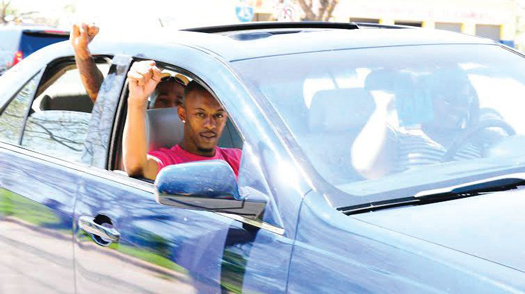 Local residents show support with raised fists as they drive by Muhammad's Mosque No. 48
BAIR arrived after 1 p.m. on the corner of Edgewood and Martin Luther King Jr. Blvd., just blocks from the mosque. According to the group's Facebook page, BAIR members and supporters planned to meet there and march with arms in hand to the mosque. Their plans never came into fruition as a crowd of approximately 75 people, which was in addition to hundreds standing blocks away at the mosque, surrounded BAIR, sapping any determination to move toward the mosque. BAIR's attendance was exceptionally lean in comparison to the group's previous protests. Only 11 members were present and armed. Various news outlets, including FOX 4, and CBS 11 reported that BAIR was outnumbered 10 to 1 by counter protestors from the community of South Dallas.
Eva's Bar-B-Q, is a historic mainstay and Black business in South Dallas. It sits near the corner of Edgewood and MLK, and was virtually ground zero for the stand-off. Ms. Eva, the owner, said it was a victorious day for South Dallas, but a sad day for America. "I pity America for having this kind of cancer and hate that we saw in them today. The hate that made them think they would come and intimidate our community. I thank you all for making sure that did not happen," she said.The scene was tense as a flurry of expletives and chants of "Black Power!" and "Brown Power!" rang through the area, aimed at BAIR members protected by a dozen or so officers and standing behind two barricades. It took just a little over three minutes for BAIR to flee the scene, taking down their flags and putting weapons in the late model pickup trucks that transported them to South Dallas.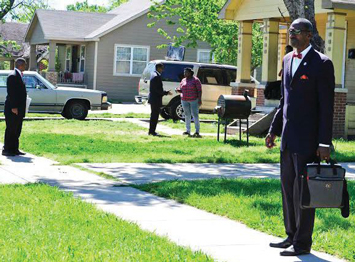 Ike, a longtime South Dallas resident, added, "We did what we was supposed to do today. It shows that Black people can come together to do something positive, I thank the Islam brothers, the Panther brothers, the bangers in the 'hood, everybody.
"We are appalled and alarmed that BAIR would come into South Dallas armed, so we are here to monitor and patrol, and show solidarity with our brothers and sisters from the Nation of Islam today," declared Yafeuh Balogun of the Huey P. Newton Gun Club, which is a coalition of armed Black organizations that believe in the right to defend themselves with arms. "They threatening the mosque, people who have no history of violence, but are just trying to take care of the community? We had to show up to defend them," continued Mr. Balogun.
As BAIR departed, a spirit of unity and movement stayed with chants of "Black Power!" and the Muslim greeting words of peace, "As-Salaam Alaikum" (Peace be upon you) shared by many.
Nation of Islam Asst. Student Supreme Captain Anthony Muhammad was present from Chicago to help defend the mosque and the people from any attack. He quickly galvanized the F.O.I. to go out into the streets to further organize people to help in moving the community forward and making the neighborhood into a safe place.