ReAwaken America, a project of the Oklahoma-based entrepreneur Clay Clark, has hosted numerous revival-style political events across the US after receiving tens of thousands of dollars in initial funds in 2021 from millionaire Patrick Byrne, and become a key vehicle for pushing election denialism and falsehoods about Covid vaccines.
ReAwaken America also boasts close ties to retired Lt Gen Michael Flynn, who in December 2020 met with Trump, Byrne and others at the White House to plot ways to reverse Trump's election loss. The meeting happened shortly after Trump pardoned Flynn, who was convicted for lying to the FBI about his contacts with the Russian ambassador before serving briefly as Trump's national security adviser.
Clark's project also has links to Dr Simone Gold, who served a 60-day jail sentence for illegally entering the Capitol on 6 January and founded America's Frontline Doctors, an anti-vaccine group that has also touted bogus cures.
"Christian nationalism has deep roots in American history and has gained traction at different points," said Amanda Tyler, the executive director of the Baptist Joint Committee for Religious Liberty. "The ReAwaken America Tour taps into the unholy well of Christian nationalism to sow doubt about the US election system and the safety of Covid vaccines while equating allegiance to Trumpism with allegiance to God."
She added: "Clay Clark and others who run this tour are using the name of Jesus, holy scripture and worship music to promote a partisan political agenda and personal business interests."
Flynn and Gold have made multiple appearances at ReAwaken America events, and spoke this January at a two-day gathering hosted at the Tennessee church of rightwing pastor Greg Locke. It drew other Trump loyalists such as the My Pillow chief Mike Lindell, Eric Trump, Roger Stone and Kash Patel, all of whom have appeared at other ReAwaken meetings.
Locke has attended a few other ReAwaken events too, and earned notoriety for calling vaccines "sugar water", the pandemic fake, and holding book burnings.
In a rabble-rousing attack on medical professionals at the Tennessee meeting, Gold announced that she plans to launch an "antidote" to the CDC on 10 March and denounced "mainstream systems" as being " totally corrupted".
Gold was ousted from her post at the Frontline doctors group by its board last fall in a nasty legal dispute that alleged she misappropriated funds for her personal use, including the purchase of a $3.6m home in Florida and three cars, one of which is a Mercedes-Benz.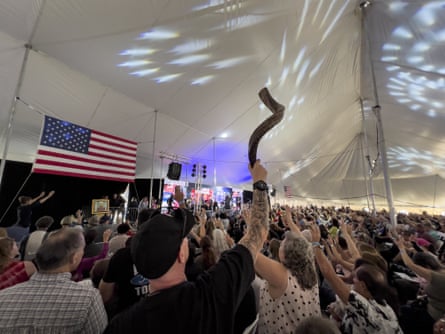 A man holds up a shofar as the audience prays inside a tent during the ReAwaken America tour in Batavia, New York, in August last year. Photograph: Carolyn Kaster/AP
Gold has countered reportedly in emails to three board members charging that "murdering the organization is incompatible with your fiduciary obligation to the organization".
Besides hosting Gold at its meetings, the ReAwaken website serves as a resource for vaccine naysayers. It provides information about jobs where proof of vaccinations are not required, and how to "request a Covid vaccine religious exemption".
To expand its events and audience in coming months, ReAwaken America has announced plans for a gathering in May to be held at the tony Trump National Doral golf club in Miami. Another is slated for Las Vegas in August.
The ReAwaken event at Trump's club could prove useful to Trump, too, as his fledgling campaign has reportedly witnessed a drop-off in support from some evangelical allies who have backed him in the past.
The Doral event may "give the appearance that Trump is still strong among the evangelical community", quipped veteran GOP consultant Charlie Black, adding that "it will be more expensive to do it at the Doral" than other venues the tour has used.
But for mainstream religious leaders and scholars who have studied the growing influence of the Christian nationalist right, the evangelical trappings and talks at the ReAwaken events, coupled with conspiratorial claims about Trump's loss and vaccine misinformation, are worrisome, and have prompted a backlash.
Tyler's group has worked with a religious coalition called Faithful America to mobilize mainstream leaders to take public stands against ReAwaken events, and has helped organize rallies to counter them in Tennessee and other states last year.
"Our goal is to help Christians provide an alternative witness in the public square," Tyler stressed, adding that these efforts began a few years ago as a movement dubbed "Christians against Christian nationalism. They want to counter the misinformation and threats to democracy."
Likewise, several academic critics are raising concerns about the medical falsehoods related to vaccines that Gold and others have spread at the ReAwaken events, as well as the far right's mantra that the 2020 election was rigged.
"The religious nature of these events is a pretext for a rally by people who are united by feeling victimized and outraged," said Samuel Perry, a sociologist at the University of Oklahoma. "This is incredibly corrosive for democracy, because you have a group of political leaders and their followers who not only feel victimized by the culture, but they feel like the very political system is against them. That's how you get populist coup attempts."
With regard to the attacks on vaccines, Perry said: "The rhetoric that we're seeing from the Christian far right against medical experts stems from a variety of different sources, including the partisan tendency to fall in line behind leadership, information silos, and a bent toward populist conspiracy theories."
"From the earliest days of the pandemic, the issue of Covid response was politicized: Republicans and those on the right were more inclined to view any claims from so-called 'experts' with suspicion," Perry added. "That obviously included masks and lockdowns, but ultimately bled into Covid-19 vaccines. These partisan conspiracies were promoted by pastors, conservative TV news and Christian talk radio, where conservative Christians would be more inclined to get their news."
Besides the ReAwaken tour's events, there has been a drive by Gold, Flynn and other key figures in the election-denialist and anti-vaccine ecosystems to promote their conspiracies on multiple platforms, including the America Project that Byrne launched in early 2021 with Flynn as a key adviser.
The America Project touts multiple missions – including election integrity, medical freedom and religious freedom – and likens its role to that of a "symphony conductor" with the goal of "magnifying the efforts of those who wish to ally with us through connecting, training, funding and working together to save America". America's Frontline Doctors, the group Gold founded, is listed among its allies.
Byrne told the Guardian in 2021 that his group put up "tens of thousands of dollars" to launch the ReAwaken tour, and that he has attended some of their events too.
In similarly expansive language, Gold's rhetoric in Tennessee veered into a prophetic style as she talked up her vision for changing America: "We will create a separate society that is founded on righteousness, objective standards of right and wrong, good and evil."
From a historical perspective, the current role played by Christian nationalism in tandem with the election denial movement and the dubious critiques about Covid vaccines has been fueled by the rise of less-educated evangelicals in politics, especially in Republican ranks, said David Hollinger, a history professor emeritus at Berkeley.
"White evangelicals are among the least educated of Americans. The Republican party's increasing reliance upon them marks an unprecedented stage in American history: for the first time, one of the major political parties displays contempt for learning. Not even the Democratic party of Andrew Jackson was so dependent for its success on anti-intellectual postures."